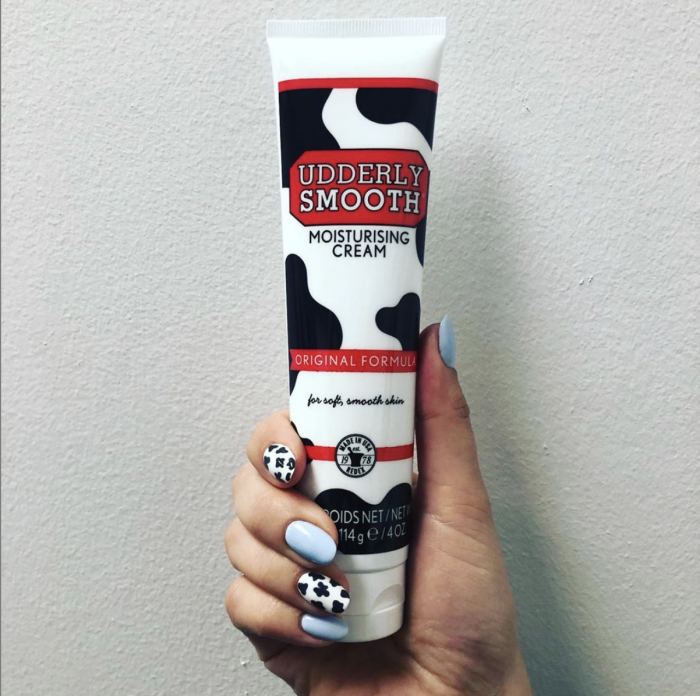 15th May 2020
Moovellous Manicure Competition!
One thing that we are all feeling right now is BORED!
There is a wave of creativity sweeping across all our social media feeds as we sit in lockdown. From cutting in your own fringe (please don't try that one) to tie dying an old sweatshirt… and now we have your next DIY trend covered. We all know you love our gorgeous cow print essential but how about matching your nails with your moisturiser? This is a trend that we've been rocking at Udderly Smooth HQ for a while but now we are starting to see the cow print nail work its way across the globe.
WIN!
To be in with a chance of WINNING our brand new Udderly Smooth Gift Box full of moisturiser goodness & a super cute cow mascot toy – get crafty and share with us your MOOvellous cow print manicure! Anyone can enter, any age!
It's simple too! All you need is a steady hand and a couple of your fave nail polishes…. In black and white of course!
STEP 1) Paint a couple of coats of your white nail polish! You want to get a nice even coat
STEP 2) Splodge some black cow print patterns around the nail. Be careful not to get those patches too thick or it will look messy!
STEP 3) give your MOOvelous manicure a top coat to seal the deal. We love a matte top coat!
Remember to tag @udderlysmooth_uk on Instagram and use the hashtag #udderlysmoothuk when sharing your MOOgnificent creations.
The MOOvellous Manicure winner will be announced on Friday 22nd May 2020. GOOD LUCK!
The prize…
Udderly Smooth prize winner gift box:
- 1 x Udderly Smooth Foot Cream with Shea Butter
- 1 x Udderly Smooth Moisturiser Cream tube
- 1 x Udderly Smooth toy mascot
More  Udderly Smooth Gift Boxes  are on sale now, click here